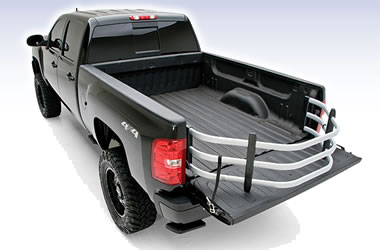 11/21/2013 - Media
New at Summit Racing: Amp Research Truck Steps and Bed Extenders
Amp Research earned its reputation with its PowerStep retractable truck and SUV steps. Summit Racing offers the PowerSteps, plus some handy Amp Research truck bed steps and bed extenders.


PowerSteps Truck Steps
Amp Research PowerSteps are full length, electric-powered running boards that instantly extend when you open your door, and then hide themselves safely out of sight when the doors close for improved ground clearance, aerodynamics, and appearance.


Features include:
• Extruded aluminum steps with a textured powdercoated finish for maximum grip and durability
• Die-cast aluminum-alloy linkage arms, anodized and Teflon® coated to resist corrosion
• Weatherproof, OEM-quality electric motors and wiring harness with sealed weathertight connectors
• Electronic controller employs pressure-sensitive, pinch-proof safety technology
• Integrated LED light system
• 600 pound load capacity per step


BedStep Bumper Steps and BedStep2 Box Side Steps
BedStep Bumper Steps quickly flip down when you need them and back up when you don't. They securely mount to your truck frame under the bumper so you can use the steps with an open tailgate or when towing. Made from high-strength aluminum alloy, they can support up to 300 pounds and have non-slip, glass-reinforced composite step pads.


The BedStep2 Box Side Steps mount just behind the cab and forward of the rear wheel to give you safe access to your toolbox, cargo, or fifth-wheel hitch with a simple nudge of your foot. The retractable aluminum steps support up to 300 pounds and have non-slip, glass-reinforced composite step pads.


BedXTender HD Bed Extenders
The BedXTender HD bed extenders are made from rounded-rectangle 6063 T6 aluminum tubing to create a strong, torque-resistant cargo cage. They flip out onto the tailgate to create extra storage space and flip back inside the bed when not in use. The HD SPORT Bed Extenders have a U-shape ideal for smaller cargo. The HD MAX Bed Extenders are U-shaped for maximum cargo space, while the HD MOTO Bed Extenders are designed for smaller pickups and have a V-shape ideal for securing motorcycles, bikes, or other extra-long cargo.


Applications: Most popular GM, Ford, Dodge, Jeep, Nissan, and Toyota trucks and SUVs.