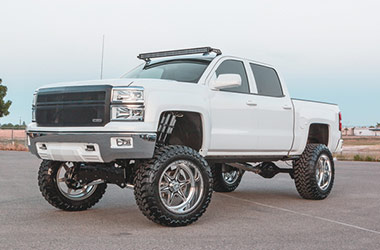 6/17/2014 - Media
New at Summit Racing: American Force Wheels
With 60 distinct styles and 415—yes, 415—variations to choose from, chances are darn good that Summit Racing has an American Force wheel that will make your truck or SUV look all that.


What's more, American Force wheels are designed for trucks that work for a living. Forged from 6061 aluminum, the one-piece wheels are ideal for vehicles that tow or haul heavy loads. American Force is so confident that its wheels are the strongest you can buy, it puts a lifetime structural guarantee on them.


These are not off-the-shelf rollers, either—American Force makes each wheel specifically to your application. Other features include:
• CNC machined faces and centers
• True hub-centric design for proper fit on your vehicle
• Bolt-on center caps with aircraft-grade fasteners included
• Fully compatible with Tire Pressure Monitor System (TPMS) sensors


American Force wheels are designated by bolt pattern. SS5 and SF5 wheels are for five-lug applications, SS6/SF6 for six-lug, and SS8/SF8 are for eight-lug applications. Summit Racing has American Force wheels for single-wheel and dually pickups in 20, 22, and 24 inch diameters in nine, 10, 11, 12, and 14 inch widths. A variety of bolt patterns and offsets are available.
The dually wheels come in a set of six—four wheels and two inner dually wheels—to outfit a complete truck.


SEE ALL AMERICAN FORCE WHEELS AT SUMMIT RACING