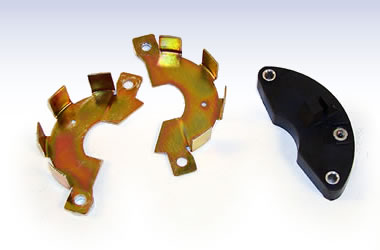 12/10/2013 - Media
New at Summit Racing: American Autowire Breakerless Se Ignition System
The easy way to convert an early GM points distributor to a maintenance-free electronic system—and no one will ever know.


Why It's Cool: The Breakerless Se Ignition Systems replaces the breaker points guts in early GM distributors with a Hall Effect magnetic setup. Unlike other systems, only the original points wire is visible—no additional wires protrude from the distributor. The result is a state-of-the-art ignition with an absolutely stock appearance.


Features include:
• Active dwell control maintains high RPM spark energy while reducing coil heat at idle
• Auto-standby prevents coil damage or dead battery if the ignition is accidentally left on. • Hall Effect rotary-vane sensor design compensates for worn bearing and distributor endplay
• Magnetic sensor is unaffected by oil, dirt, or other contaminants, unlike optical systems
• Over-voltage/over-current protected against damage from high amp battery chargers, reversed battery, or improper wiring.
• No distributor modification, disassembly, or removal required
• Three year warranty


Applications: Most 1956-76 GM single-point distributors.


LINK TO AMERICAN AUTOWIRE BREAKERLESS SE IGNITION SYSTEM