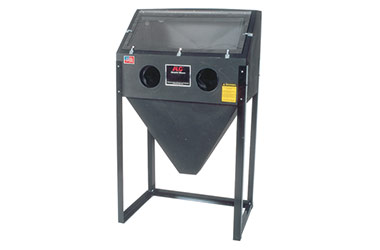 2/27/2014 - Media
New at Summit Racing: ALC Blast Cabinets
Get those rusty, grungy parts nice and clean, ready for paint. Summit Racing offers a nice selection of ALC Blast Cabinets from small bench top units to large floor blasters for bigger parts. All are ideal for stripping through paint, grease, rust, and more, leaving you with clean parts. All ALC Blast Cabinets are made in the USA.



Bench Top Cabinet Blasters
ALC bench top cabinet blasters are manufactured from thick-wall LDPE polymer. The one-piece cabinet has an oversized top window and door for easy access and viewing. Designed to work with most shop vacuums, the cabinet is easy to use—just put your arms through the arm holes and gloves, grab the pistol-grip trigger gun, and blast away. Blasting gun and nozzles are included.


Summit Racing also offers a floor-model version of the Bench Top Blaster that is ideal for larger parts. It has the same one-piece LDPE polymer construction and works with a shop vacuum. It also has steel legs and a work light.


Steel Cabinet Blasters
These floor mount cabinets are ideal for larger, heavier parts. Designed for use with an air compressor, the blasters feature heavy-gauge steel cabinets, side doors, an interior light, a dust collector, an air pressure regulator, and handy foot pedal control. The blast gun, gloves, and extra nozzles are included.


Summit Racing also carries ALC Blasting Suits for you guys that sand- or media-blast big stuff like frames, bodies, etc. that don't fit in a cabinet blaster. They feature a durable nylon material on the front and breathable cotton on the back to help keep you cool. They have hook and loop closures, an elastic waistband, and a large collar to protect your neck. The suits are also ideal for painting, stripping, and other messy projects.


SEE ALL ALC BLAST CABINETS AND SUITS AVAILABLE AT SUMMIT RACING