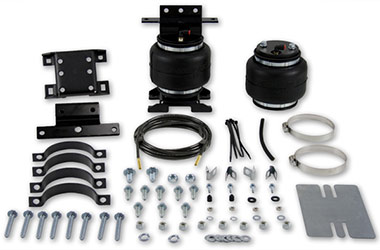 3/5/2014 - Media
New at Summit Racing: Air Lift Load Lifter 5000 Ultimate Air Spring Kits
Maximize ride comfort, regardless of road conditions.
Why They're Cool: Air Lift Load Lifter 5000 Ultimate Air Spring Kits are well suited for pickup trucks, vans, wreckers, fifth-wheels, motorhomes, or large vehicles requiring serious load-handling capability.
The kits have an internal jounce bumper to dampen road shocks and ensure a smooth ride. The air springs feature 2-ply commercial-grade bellows for added durability and load capacity. The bellows mount between the spring and frame, and can be inflated to 100 PSI (max.) while handling loads up to 5,000 pounds.
Each kit includes bellows, jounce bumpers, air lines, fittings, mounting brackets, and hardware. Installation typically takes around two hours. There are kits available for most late model full size trucks, vans, and SUVs.
Product Link:
http://www.summitracing.com/oh/search/category/truck-suv/product-line/air-lift-load-lifter-5000-ultimate-air-spring-kits?autoview=SKU
Other Stuff Worth Knowing: Air Lift offers its Load Controller II Systems to monitor the Load Lifter 5000. The systems allow a driver to watch the air springs' PSI and make in-cabin air pressure adjustments if necessary. Load Controller II systems can also be set up to control PSI automatically, activating the on-board compressor when the springs' PSI travels below a specified threshold. The kits include the compressor, gauges, wiring harness, and hardware.
Product Link: http://www.summitracing.com/oh/search/product-line/air-lift-load-controller-ii-systems?SortBy=Default&SortOrder=Default&autoview=SKU&keyword=Air%20Lift%20Load%20Controller