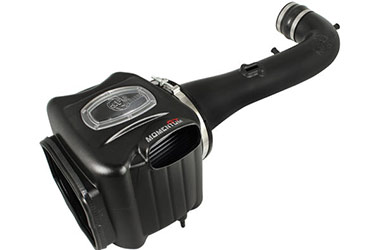 8/13/2014 - Media
New at Summit Racing: aFe Momentum GT Stage 2 Si Pro Dry S Air Intake Systems
Cold air intakes designed specifically for the trail.
Why They're Cool: Typical cold air intakes work OK for street vehicles. For off roaders, however, a poorly-sealed intake can cause the engine to suck in water, dirt, and small rodents. aFe has designed a new breed of air intakes that deliver significant power gains and mitigate the risk of potential engine damage.
Momentum GT Stage 2 Si Pro Dry S air intakes feature a one-piece sealed housing that ensures the coldest air charge possible. Tests prove that these systems can flow up to 50 percent better than stock. Depending on the vehicle, the increased airflow can result in a 12 horsepower improvement.
The intake also uses an auxiliary scoop for extra performance, but the scoop can be plugged when the weather is cold or when drivers want an extra safeguard against Mother Nature.
aFe Momentum GT Stage 2 Si Pro Dry S air intakes are available for 1999-2014 GM full size truck/SUV, 2007-13 Jeep Wrangler, and 2004-13 Nissan Titan.
See all Momentum GT Stage 2 Si Pro Dry S Air Intake Systems at SummitRacing.com.