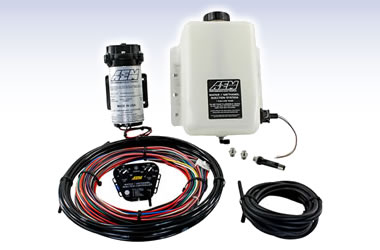 11/11/2013 - Media
New at Summit Racing: AEM Electronics Water/Methanol Injection Systems
Run massive boost and/or high compression without detonation worries.


Why They're Cool: AEM Electronics recently released two new water/methanol injection systems tailored specifically to high-boost and high-compression performance and racing engines. The systems feature updated controllers with large, positive-action knobs (no accidentally over-turning!) and larger numbering to easily set accurate start and full activation points. A plug is integrated into the controller housing for mating to the redesigned wiring harness's positive-lock connector. The controller housings feature an easy to access integrated fuse and molded mounting tabs.


The systems retain AEM's "Boost Safe" injection failsafe system. This output function will activate if there is a short, loss of continuity, low/high voltage, or low fluid condition. You can use the Boost Safe function to activate a warning light or tell your engine management system to retard boost, pull out ignition timing, or switch to a safe default fuel map.


System Features
• Pre-terminated wiring harness with positive lock connector, integrated pump ground circuit, and additional wire for optional on/off flow solenoid
• One machined billet injector with integral check valve to prevent unintended flow
• Interchangeable 250cc, 500cc, and 1,000cc/minute injector nozzles cover a wide range of horsepower levels
• Recirculation-style pump with integral fittings for quiet operation
• One gallon tank with built-in low fluid level indicator
• LED dash light for system status and low fluid warning
• 20 feet of high-pressure nylon injection tubing


Part number AVM-30-3300 is for forced induction vehicles making up to 35 PSI of boost. The controller has an on-board manifold absolute pressure (MAP) sensor with a molded-in nipple for a boost hose pickup.


Part Number AVM-30-3350 features a multiple input controller for use with high compression, naturally aspirated engines and forced induction engines making more than 350 PSI of boost. The controller works with an external 0-5v voltage-based external MAP sensor, or voltage-based MAF sensor, a frequency based input for Injector Duty Cycle (IDC), or a frequency-MAF sensor.