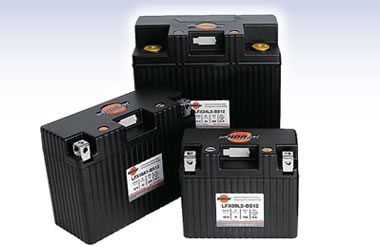 1/10/2014 - Media
New at PowerSports Place: Shorai LFX Lithium Technology Batteries
Batteries specifically designed for the demands of motorcycles and ATVs.
Shorai LFX Lithium Technology Batteries are up to 80 percent lighter than a typical lead-acid battery. They're resistant to vibration, and offer better starting performance and increased cold cranking amps than their lead-acid counterparts. LFX Batteries also won't degrade over time as a traditional battery would. That makes these batteries great for vehicles that may spend off-season in the garage.
Shorai LFX Lithium Technology Batteries come in a variety of universal-fit sizes in either top- or side-post configurations, including plenty of vehicle-specific applications. Each battery comes with terminal screws and a foam sheet that fits inside the battery box to ensure a snug fit and provide extra thermal and vibration protection.
Shorai is also an OE supplier to the new Erick Buell Racing 1190RX sportbike.
Product Link: http://www.powersportsplace.com/search/brand/shorai-batteries/product-line/shorai-lfx-lithium-technology-batteries?autoview=SKU
To compliment its LFX Batteries, Shorai offers a Dedicated LFX Charger. It charges at a rate of two amps. You can configure it for several modes, including full charge and long-term storage modes. The charger is specifically tailored to LFX batteries, and is the ideal way to increase the batteries' service life. A handy connector makes it easy to charge the battery without removing it from the vehicle.
Product Link: http://www.powersportsplace.com/parts/sbt-sho-bms01/overview/
Where to Get Them: Order online at PowerSportsPlace.com or call PowerSports Place at 1-800-709-1079.