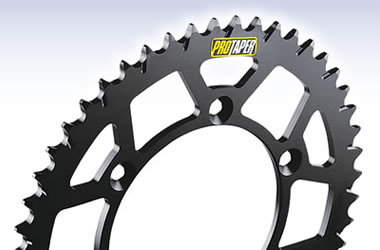 1/10/2014 - Media
New at PowerSports Place: ProTaper Performance Parts
Upgrade your ride with parts made to take a beating and keep you on track.
Sprockets
ProTaper ATV CS4 Rear Sprockets are made from high-strength steel and feature teeth that are 25 percent stronger than stock. Each sprocket undergoes a KTL coating process specifically tailored to metal surfaces, which creates a durable, long-lasting finish. The end result is a sprocket that will outlast the OE part. The sprockets' low price makes them a smart choice for direct replacement.
For serious racers, ProTaper makes RS (Race Spec) Sprockets. They're made from heat-treated aluminum for strength, while offering a substantial weight savings. Innovative mud grooves are etched into the sprocket to clear away muck, resulting in more tooth surface area. This increases the overall life of your sprocket. The sprocket's tooth count is etched cleanly into the sprocket's face, which makes sprocket swapping easy at the track. RS Sprockets are available for both ATVs and dirt bikes.
Want to really set your ride apart? ProTaper Metal Mulisha Sprockets combine superior durability with eyeball-popping graphics. The sprockets' teeth have more surface area than stock and feature a durable coating to ensure the dynamic full-wrap graphics won't wear off.
ProTaper also makes Front Sprockets that are machined from case-hardened chromoly steel. The self-cleaning design eliminates muck buildup and each sprocket is drilled to reduce weight. The tooth count is etched cleanly into each sprocket for quick identification.
Product Link: http://www.powersportsplace.com/search/brand/protaper/department/drivetrain?N=402372%2B4294953126&autoview=ProductName
Grips
Stay planted on the bars with a set of ProTaper Grips. Made for both bikes and ATVs, these grips are designed to maximize control and feel, while reducing vibration and rider fatigue. Several grip compounds are available, in multiple patterns and styles. They come in assorted colors and lengths, and in a variety of handlebar diameters.
Product Link: http://www.powersportsplace.com/search/brand/protaper/department/controls-handling/section/grips?N=402372%2B4294948924%2B4294943856&autoview=ProductName
Where to Get Them: Order online at PowerSportsPlace.com or call PowerSports Place at 1-800-709-1079.
Other Stuff Worth Knowing: PowerSports Place carries several other ProTaper components like handlebar pads, foot pegs, and clutch levers.