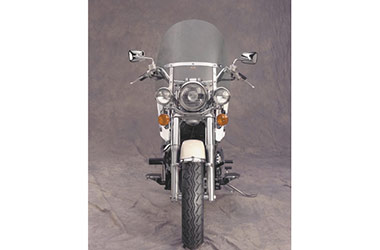 5/14/2014 - Media
New at PowerSports Place: National Cycle Polycarbonate Windshields
The freedom of the open road without the bugs in your teeth.
National Cycle has developed more innovations and holds more patents on windshield production and technology than any company in the industry. It is the world leader in windshield manufacturing and is the OE supplier to Harley-Davidson, BMW, Honda, Yamaha, Suzuki, Kawasaki, and Triumph.
Instead of acrylic, National Cycle uses polycarbonate material in its Heavy Duty, SwitchBlade, Wave, and VStream Windshields. That makes them incredibly resistant to scratching and cracking. National Cycle is so confident in the design, that these polycarbonate windshields carry a three-year warranty against breakage.
Outfitting your bike with a National Cycle windshield starts with determining how much coverage you want. Select from a full touring windshield, a low profile sport windshield, or find plenty of options in between. Multiple styles are available to fit bikes from café racers to full touring baggers.
These windshields are either universal-mount or direct replacements for the factory unit. Quick-change hardware makes it easy to change styles.
Product Link: http://www.powersportsplace.com/search/brand/national-cycle/part-type/windshields?tw=National%20Cycle%20Windshields&sw=National%20Cycle%20Windshields
Where to Get Them: Order online at PowerSportsPlace.com or call PowerSports Place at 1-800-709-1079.