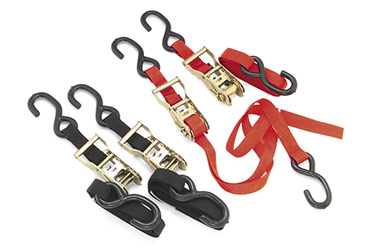 4/15/2014 - Media
New at PowerSports Place: BikeMaster Tie-Downs
Secure and transport your ride the correct way and avoid catastrophe.
Strapping down a bike or ATV isn't as easy as it sounds. Standard hardware store tie-downs could scratch or mar your ride's finish—or worse yet, let go completely and cause some real damage. BikeMaster's Integrated Tie-Downs have a rigid S-hook on one end and a soft loop on the other. The soft loop is easy to slip over forks, handlebars, or swingarms. They're made of double-stitched woven webbing for extra strength.
BikeMaster Swivel Tie-Downs have patented swivel S-hook ends to keep the strap from twisting. They're available in cambuckle or ratchet models to ensure that they can be pulled taut without releasing.
Both styles of BikeMaster's Tie-Downs come in multiple lengths, widths, colors, and working loads.
Product Link:
http://www.powersportsplace.com/search/new-product/yes?keyword=tie-downs
Where to Get Them: Order online at PowerSportsPlace.com or call PowerSports Place at 1-800-709-1079.
Other Stuff Worth Knowing: BikeMaster also makes traditional style Ratchet Tie-Downs and Tie-Down Extensions, so you won't have to rely on your knot-tying ability to secure cargo ever again.