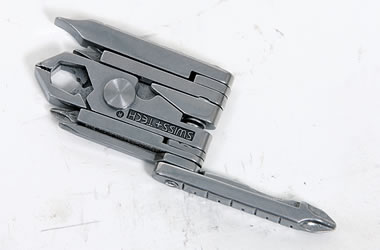 12/10/2012 - Media
Multi-Function Pocket Tools Now Available from Genuine Hotrod Hardware
Tons of tools in a small package! These cleverly-designed tools combine multiple functions into a set of tools that fits in your pocket or on a key ring. Get a couple for the gearheads on your holiday list (or yourself!).


Micro-Max 19-in-1 Pocket Tool
This stainless steel tool measures 1 1/4" W x 2" H x 1/4" D and features:
• (2) hex wrenches
• (6) screwdrivers
• Pliers
• Wire cutter
• Wire stripper
• Wire crimper
• Hand drill
• File
• Bottle opener
• (2) rulers (mm and inch)
• (2) ruler extensions
Part Number: SIP-53100


Micro-Plus® EX 9-in-1 Pocket Tools
Made from stainless steel, this tool measures 1 1/2" W x 2" H x 5/8" D and features:
• Pliers
• Wire cutter
• Wire stripper
• Wire crimper
• Bottle opener
• (2) Phillips screwdrivers
• (2) flat screwdrivers
Part Number: SIP-50016


Utili-Key® 6-in-1 Pocket Tool
It looks like a key, but the Utili-Key pocket tool is actually six handy devices in one:
• Flat screwdriver
• Phillips screwdriver
• Precision screwdriver
• Straight-blade knife
• Serrated knife
• Bottle opener
Part Number: SIP-ST66676


Xrive™ 6-in-1 Pocket Driver
This pocket driver has a flip-open plastic storage compartment that holds four interchangeable screwdriver bits (two Phillips, one flat, and one 5/32" Allen bit). A magnetic socket holds bits in place. The XDrive also sports a pushbutton dual-LED flashlight and a key ring. Measures 1 1/4" W x 2 1/2" L x 1/2" D.
Part Number: SIP-ST60210


Where to Get Them: Order online at Genuinehotrod.com or call Genuine Hotrod Hardware at 1-800-575-1932


Other Stuff Worth Knowing: Genuine Hotrod Hardware offers a huge variety of automotive-inspired keychains to give your keys or pocket tools a cool place to hang out.