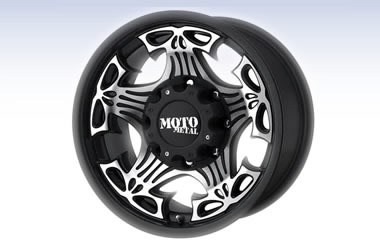 4/29/2013 - Media
Moto Metal Skull Black Wheels Now Available at Summit Racing Equipment
Wheels that will get people to notice you—or else.


What They Are: Moto Metal Skull Black Wheels


Why They're Cool: Rims endorsed by Blackbeard. Moto Metal's Skull Black wheels feature five distinctive skull-shaped spokes with machined faces that stand out against the gloss black rim. The one-piece aluminum wheels are load rated from 2,200 to 3,600 pounds each depending on size and bolt pattern. Center caps are included.


Sizes: 17 x 9, 18 x 9, 20 x 9


Bolt Patterns: 5 x 4.5 (17 inch only), 5 x 5, 5 x 5.5, 5 x 150mm (18 and 20 inch only), 6 x 5.5, 6 x 135mm, 8 x 6.5, 8 x 170mm


Where to Get Them: Order online at SummitRacing.com or call Summit Racing at 1-800-230-3030


Other Stuff Worth Knowing: Skulls too out-there for you? Summit Racing offers five other Moto Metal wheel styles in black and chrome finishes.