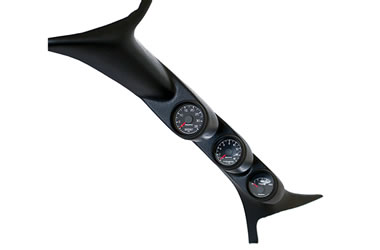 7/8/2013 - Media
Match Your OE Gauges with Auto Meter Factory Match Gauges
Add a pyrometer and boost gauge that match your diesel truck's factory gauges.


Why They're Cool: Auto Meter's Factory Match Diesel Gauge Kits are designed to match the OE gauges' look. They have factory-matched gauge faces, numbers, and pointers, so they'll look like your vehicle came with them stock. They even have the same night lighting as OEM. The kits include a pillar pod with the gauges pre-installed and ready to wire.


The Chevy/GM applications come with a boost gauge and pyrometer. The Ford and Dodge applications can be had with a boost gauge and pyrometer only or as a triple-gauge kit with a transmission temperature gauge.


Applications
• 2001-07 Chevy/GMC Silverado/Sierra 2500 and 3500 HD with Duramax
• 1999-2007 Ford F-250/350 Super Duty and Excursion with Powerstroke
• 2003-06 Dodge Ram 2500 and 3500 with Cummins


Product Link
http://www.summitracing.com/search/product-line/auto-meter-factory-match-diesel-analog-gauge-kits?autoview=SKU