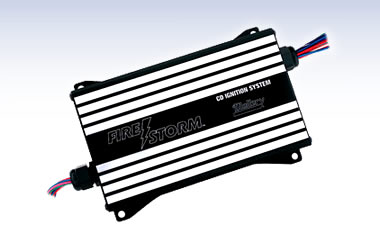 1/9/2013 - Media
Mallory FireStorm Street Ignitions Now Available at Summit Racing Equipment
Big spark energy you can tune with a laptop.


What They Are: Mallory FireStorm Street Ignitions


Why They're Cool: 550 volts of spark tailored for your engine. The FireStorm Street Ignitions are CD boxes that deliver hot, multiple sparks and timing accuracy within 1/10th of 1° at 10,000 RPM. Even better, they offer the ability to custom-tailor that spark to your specific requirements thanks to integral 3D timing maps and individual cylinder timing control that can be tuned via a laptop computer.


Other features include:
• Inputs for 7 OEM and aftermarket ignition systems
• Shift light/tach output
• Max RPM rev limiter
• Outputs for 2- and 3-step rev limiters
• Single step timing retard
• Adjustable boost retard up to 5 bar (60 PSI)
• Idle-spark control (Idle stability enhancement)
• Drag race launch mode
• Self-diagnostics with malfunction light output


Part Numbers
MAA-69000S FireStorm for universal single-coil systems
MAA-69000M FireStorm for universal coil-on-plug/EDIS systems
MAA-69050S FireStorm for GM LS1/LS6, 24x crank reluctor (non-CD style)
MAA-69150C FireStorm for Ford coil-on-plug systems
MAA-69150E FireStorm for Ford EDIS systems
MAA-69200S FireStorm for Mopar Hemi coil-on-plug systems


Where to Get One: Order online at SummitRacing.com or call Summit Racing at 1-800-230-3030


Other Stuff Worth Knowing: Summit Racing also offers Mallory's FireStorm Pro ignitions. They have all the features and tunability of the Street boxes, plus outputs for a single step timing retard, electric fan controls, and monitor/function controls for throttle position, coolant, air temperature, and wideband oxygen sensors.