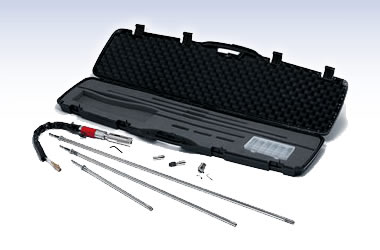 1/18/2013 - Media
Malco Raditap Rapid Dent Removal System Now Available at Summit Racing Equipment
Remove the dents that slide hammers and other tools can't reach.


What It Is: Malco Raditap Rapid Dent Removal System


Why It's Cool: Get rid of dents in those out-of-the-way places. The air-operated Raditap is essentially a long-reach pick, designed to remove dents in tight places like engine compartments and wheelwells. Just attach the appropriate pick tip and one of the included driveshafts, and snake the Raditap through access points in doors, trunks, and other areas to reach the offending dents. The tool has a speed control that allows you to adjust the pick's intensity. That means you can remove large and small dents without overheating or deforming the metal.


The Raditap comes with three tips (ball, wedge, and right angle), polymer and steel picks for use with the right angle tip, three driveshafts (18, 36, and 48 inches long), and a carrying case. Air requirement: 4 cfm @ 90 psi.


Part Number: MAL-RDR


Where to Get It: Order online at SummitRacing.com or call Summit Racing at 1-800-230-3030


Other Stuff Worth Knowing: Since you're in the market for bodyworking tools, invest in a Dent Fix Right Angle Stripper Air Tool. Ideal for getting into wheelwells, engine compartments, and other small spaces, the tools uses a flexible wire wheel to easily remove undercoating, sealer, and other heavy coatings without damaging metal.