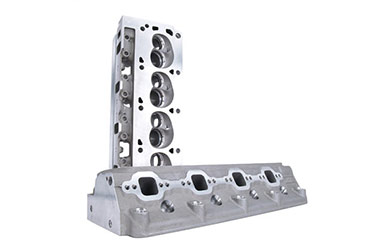 8/9/2014 - Media
Make Some Big Horsepower with RHS Pro Action Cylinder Heads
When it comes to bang for the buck, it's hard to beat a set of RHS Pro Action aluminum cylinder heads. Ideal for street performance, bracket racing, and oval track use, Pro Action heads are available for small block Chevy, big block Chevy, and small block Ford in a multitude of runner and combustion chamber sizes. That means Summit Racing has a Pro Action head that will make horsepower with your engine combination.


Standard features for all Pro Action cylinder heads include:
• Clean Cast Technology™ provides better casting quality for maximum airflow
• High flow as-cast runners and chambers
• Multi-angle intake & radiused exhaust valve seats add 5% more flow over similar heads
• Modified water jackets for improved durability and reliability
• Manganese intake and bronze exhaust valve guides
• Extra-thick decks
• Assembled heads feature premium COMP Cams valvetrain components


RHS Pro Action Cylinder Heads are available as bare castings or fully assembled with valves, valve springs, locks and retainers, seals, and rocker arm studs. Pushrod guideplates are included.


Pro Action 23 Degree Aluminum Cylinder Heads for Small Chevy
• Combustion Chamber Sizes: 64cc and 72cc
• Intake Runner Sizes: 180cc, 200cc, 220cc, 235cc
• Exhaust Runner Size: 74cc
• Valve Diameters: 2.02 and 2.08 inch intake, 1.60 inch exhaust
• Valve Spring Sizes: 1.430 and 1.460 inch single
• Straight and angle plug versions available


Pro Action Aluminum Cylinder Heads for Big Chevy
• Combustion Chamber Size: 119cc
• Intake Runner Sizes: 320cc and 360cc
• Exhaust Runner Size: 135cc
• Intake Port Configuration: Rectangular
• Valve Diameters: 2.25 and 2.30 inch intake, 1.88 inch exhaust
• Valve Spring Sizes: 1.509 and 1.650 inch dual


Pro Action Aluminum Cylinder Heads for Small Ford
• Combustion Chamber Sizes: 58cc and 64cc
• Intake Runner Sizes: 160cc, 180cc, 200cc, 215cc
• Exhaust Runner Size: 66cc
• Valve Diameters: 1.94, 2.02, and 2.08 inch intake, 1.60 inch exhaust
• Valve Spring Sizes: 1.430 and 1.460 inch single


SEE RHS PRO ACTION CYLINDER HEADS AT SUMMIT RACING