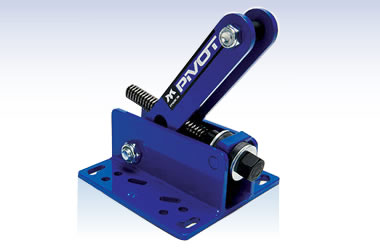 3/14/2013 - Media
Mac's Engine Pivot Plates Now Available at Summit Racing Equipment
Installing or removing an engine from a tight space? Here's a tool that helps make the job easier.
What It Is: Mac's Engine Pivot Plate
Why It's Cool: Stay in control during complicated engine removals and installations. This carburetor pad-mounted plate is articulated, allowing it to be tilted up to 35 degrees. That means you can position the engine and transmission for the easiest entry and exit paths into or out of your vehicle.
The Pivot Plate is made from rugged steel and has a powdercoated finish for increased durability.
Application: Mac's Engine Pivot Plate is drilled to accept most common two- and four-barrel manifold mounting flanges. Mac's offers engine-specific Plate Adapters for GM LS, fuel injected, and other specialized setups.
Where to Get One: Order online at SummitRacing.com or call Summit Racing at 1-800-230-3030.
Other Stuff Worth Knowing: Mac's Ultra Pack Tie-Down Kits will secure your entire vehicle for transport. They include four 8 foot ratchet straps and four 2 foot axle straps, each rated at a whopping 10,000 pounds. The straps feature a full-length padded sleeve to protect your vehicle's finish and they come packaged in a duffel bag. These kits ensure that both your vehicle and trailer arrive safe and intact.