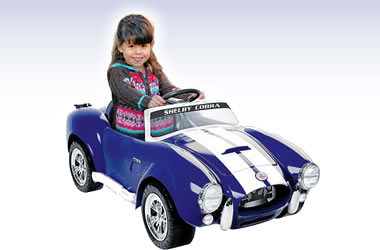 12/16/2013 - Media
Last-Minute Holiday Gift Ideas from Genuine Hotrod Hardware
The White Flag has dropped—finish your holiday shopping before the big day arrives.
Shelby Cobra Ride-On
Bring up the next generation of car nuts properly. They'll enjoy cruising the sidewalk in a way-cool 1965 Shelby Cobra Battery-Powered Ride-On. Wrapped in an iconic Shelby blue paint scheme, this single-seat roadster features realistic racing sound effects, forward and reverse gears, chrome wheels, and a top speed of around two to three MPH. It includes a six-volt battery and charger, and is recommended for racers age three to six.
Product Link: http://www.genuinehotrod.com/itemgroup/1965-shelby-cobra-battery-powered-ride-on
Neon Signs
Nothing says nostalgia like neon. Whether your favorite gearhead opts for two wheels or four, there are plenty of neon signs to choose from. At the top of your list should be these officially licensed Harley-Davidson and Chevy Corvette neon signs. Made from hand-bent neon tubing, these signs add a warm glow to any room. Both plug right in to any standard wall outlet.
Product Link:
http://www.genuinehotrod.com/itemgroup/harley-davidson-superior-quality-neon-sign
http://www.genuinehotrod.com/itemgroup/corvette-c5-neon-sign
Lamps
Genuine Hotrod Hardware's automotive-themed lamps will rev up any room. Pick from a cool oversized spark plug or trusty oil can, complete with a "Star Brand Oil" logo. Made from cast resin, they're the perfect way to brighten up a garage, man-cave, shop, or office. Other lamps are available too, visit GenuineHotrod.com to see them all.
Product Link:
http://www.genuinehotrod.com/itemgroup/oil-can-lamp
http://www.genuinehotrod.com/itemgroup/spark-plug-lamp