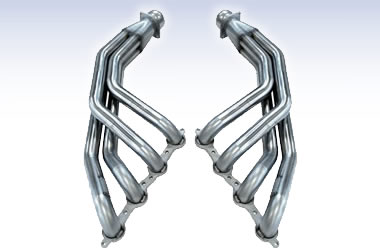 3/1/2013 - Media
Kooks Long Tube LS Swap Headers for Nova and Chevelle Now Available at Summit Racing Equipment
A tidy solution to one of the trickiest aspects of an LS swap in an early GM musclecar.


Why They're Cool: Headers that take the guesswork and fabrication out of a Nova or Chevelle LS install. Made from 18-gauge 304 stainless steel, these full-length long tube headers are designed to scavenge as much horsepower from your LS as possible. They bolt right up with no clearance or fitment issues, and have 2-bolt, 3 inch collectors for easy hookup to an aftermarket exhaust system.


Part Numbers
KOK-6451-S Headers for 1968-74 Chevy Nova with LS
KOK-6450-S-0711 Headers for 1964-72 Chevy Chevelle with LS


Where to Get Them: Order online at SummitRacing.com or call Summit Racing at 1-800-230-3030


Other Stuff Worth Knowing: Kooks offers Long Tube Headers for the C2 and C3 Corvette crowd as well. Available for 305/327/350 small block-equipped Vettes, these stainless steel headers are designed for a perfect fit and feature 3 inch collectors to accommodate stock and performance exhaust systems.