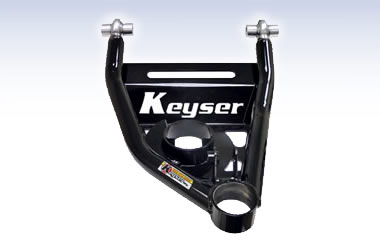 1/17/2013 - Media
Keyser Manufacturing Tubular Lower Control Arms Available at Summit Racing Equipment
Keyser Manufacturing tubular lower control arms won't bind and can take a beating on the track.


What They Are: Keyser Manufacturing Tubular Lower Control Arms


Why They're Cool: Keyser's tubular control arms are UMP Dirt Car Racing approved. They feature lowered shock mounting and a 90 degree spring perch to provide maximum travel on the right front during compression, a no-bind ball joint angle, and a proper pigtail mount for a perfect fit. The arms come with high quality rod ends welded in place, plus aluminum spacers. A black powdercoated finish provides good looks and long-lasting durability. The control arms are UMP-approved for dirt track racing.


Applications: Available for Chevy Nova- and Chevelle-based chassis.


Where to Get Them: Order online at SummitRacing.com or call Summit Racing at 1-800-230-3030


Other Stuff Worth Knowing: Keyser Manufacturing is your one-stop source for chassis fabrication parts like tabs, brackets, gussets, shock mounts, and more. All components are made from high quality steel and are perfect for use in all types of circle track cars.