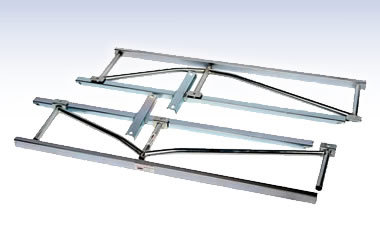 3/26/2013 - Media
Kenny Brown Performance Extreme Matrix Chassis Systems Now Available at Summit Racing Equipment
Stiffen your 1979-2004 Mustang's chassis to handle extra horsepower and improve handling.


What They Are: Kenny Brown Performance Extreme Matrix Chassis Systems


Why They're Cool: Turn your Mustang into a handling monster. The Extreme Matrix system combines Kenny Brown's Chassis Braces, Jacking Rails, and Super Subs subframe connectors to form a fully triangulated frame under your Mustang. That means your chassis will be stiff enough to handle more horsepower. Your suspension will work better and ride quality will improve too, and the built-in jacking rails make raising your car easier.


The Extreme Matrix Chassis Kits add little weight and will not reduce ground clearance. The components have an OEM-quality silver-zinc chromate finish for rust protection.


Part Numbers
KBH-HKB-29551 System for 1979-93 Mustang
KBH-HKB-29550 System for 1994-2004 Mustang


Where to Get One: Order online at SummitRacing.com or call Summit Racing at 1-800-230-3030


Other Stuff Worth Knowing: Kenny Brown's Extreme Matrix Chassis Braces and Jacking Rails will do for 2005-13 Mustangs what the Extreme Matrix Chassis Kit does for the Fox and New Edge cars.