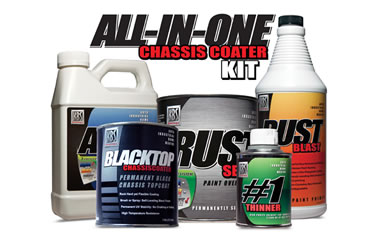 11/22/2012 - Media
KBS Coatings Rust Control Products Now Available at Summit Racing Equipment
Want to stop iron oxide in its tracks? KBS Coatings has solutions to stop current rust, prevent new rust, and keep frames, floor pans, and other iron and steel parts looking good.


KBS RustBlast
KBS RustBlast is formulated to dissolve rust, corrosion, metal oxides, and tarnish from most metal surfaces, while enhancing welding surface conductivity. This non-corrosive, non-flammable formula has no petroleum additive and is water-based and biodegradable. Apply it full-strength and watch rust, corrosion, oxidation, and tarnish vanish within 20-30 minutes. RustBlast is also a zinc phosphate pre-primer and metal etch, which helps prepare the surface for priming and painting.
Part Link


KBS RustSeal
RustSeal is a ready-to-use, high-solids rust-preventive coating that's actually hardened by exposure to moisture. It's impervious to road salt and most chemicals, and forms a rock-hard, ceramic-like coating that's tough to chip or scratch and won't crack or peel.
• Forms a permanent nonporous barrier against moisture and oxygen
• Strengthened by repeated exposure to moisture
• Mold- and mildew-resistant
• Repels fuels, oils, most acids and alkalis
• Withstands temperatures of up to 600 degrees F (316 degrees C)
• Available colors: satin and gloss black, silver, gray, blue, red, green, white, yellow, and galvanized steel
Part Link


All-in-One Chassis and Engine Coating Kits
These all-in-one kits make it easy to protect and spiff-up your chassis and engine. The Chassis kits include KBS BlackTop topcoat, a protective coating formulated to withstand exposure to sunlight and remain bright and shiny. The Motor Coater Kits include a high-quality enamel topcoat in your choice of gloss black or Chevy Orange.


Both kits come with the following products:
• AquaKlean industrial strength cleaner and degreaser
• RustBlast rust remover and metal prep
• RustSeal non-porous, waterproof rust preventative
• #1 thinner to thin spray applications and for cleanup
• Brushes, gloves, stir stick, and instructions
KCO-5750101 Chassis Coater Kit, gloss black
KCO-5750102 Chassis Coater Kit, satin black
KCO-58002 Engine Coating Kit, gloss black
KCO-58001 Engine Coating Kit, Chevy Orange


Where to Get Them: Order online at SummitRacing.com or call Summit Racing at 1-800-230-3030


Other Stuff Worth Knowing: Summit Racing also offers KB Coatings' Frame Coater Kit, DiamondFinish Clearcoat, and Motor Coater engine enamel paint.