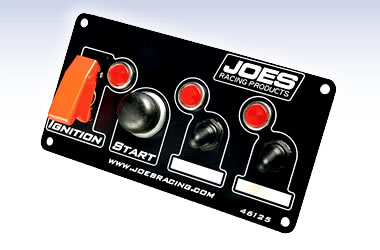 8/1/2013 - Media
JOES Racing Products Now Available at Summit Racing Equipment
Top-quality circle track parts and accessories made by racers, for racers. Summit Racing offers over 900 JOES Racing products, from wheel spacers to switch panels and control arms.


Upper Control Arms
JOES tubular control arms are made from .095 inch steel tubing and feature precision-machined aluminum or steel cross-shafts to minimize flex and binding. All control arms are tested on JOES control arm fixtures, allowing the company to produce the most rigid parts on the market.


The slotted control arms are designed for use with roll center plate slugs (available separately) which allow you to alter the front roll center in 1/8 inch increments. The bearing style slotted control arms feature a bolt-on control arm tube section that lets you change arm lengths. This will save you money and allows for quick changes at the track. Their unique split design is ideal for cars where the control arm needs to wrap around the frame mount. The control arms have four sealed roller bearings to eliminate friction and resistance for more consistent handling.
PRODUCT LINK


Steering Wheels
JOES aluminum steering wheels feature a shot-peened, no-slip rim so you won't lose your grip. The three-spoke wheels are drilled to reduce weight, but are strong enough to protect your hands during the heat of racing. The steering wheels are available in bare aluminum or with a black anodized finish in 13, 14, 15, 16, and 17 inch diameters.
PRODUCT LINK


Switch Panels
From ignition to start to accessory panels, JOES Racing Products has a switch panel to meet your needs. The pre-wired aluminum panels feature ignition switches with an aircraft style flip cover. Start and accessory switches have waterproof boots for durability. Some panels have bright warning lights.
PRODUCT LINK


Other Stuff Worth Knowing: JOES Racing Products makes some tire pressure gauges you'll want to see. They feature glow-in-the-dark dial faces, air pressure release buttons, internal gauge dampers, and a 17 inch, ultra-flexible hose with a swivel chuck fitting that accepts thread-on angle or ball chucks (both included). The tire pressure gauges are available in 0-15, 0-30, and 0-60 psi versions.