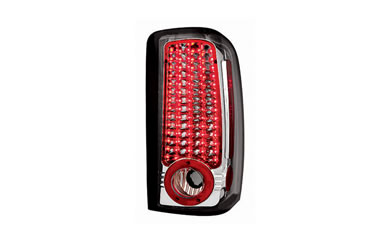 6/18/2013 - Media
IPCW LED Taillights Now Available at Summit Racing Equipment
A lighting hat trick.
What They Are: IPCW LED Taillights
Why They're Cool: These are good looking taillights that use less power yet create more light than incandescent bulbs. Made to replace your truck's stock taillights, these LED taillights from IPCW plug right in without modifications. The taillights provide brighter, more consistent light, resulting in an important safety upgrade.
LED lighting generates little or no heat, draws less battery power, and the bulbs last 100,000 hours. They're completely SAE/DOT compliant and perfectly replicate the functions of your existing lights (brake lights, turn signals, etc.).
The taillights either come with clear lenses with red bulbs or red lenses with clear bulbs.
Applications: Available in pairs for many 1988-2012 Dodge, Ford, GM, Nissan, and Toyota pickup trucks and SUVs.
Where to Get Them: Order online at SummitRacing.com or call Summit Racing at 1-800-230-3030.
Other Stuff Worth Knowing: Summit Racing offers IPCW lighted tailgate handles. They allow you to add an extra taillight, without drilling or cutting your sheetmetal. The handles incorporate the same LED technology as IPCW's taillights. They're available for many popular pickup truck models and come in black or chrome.