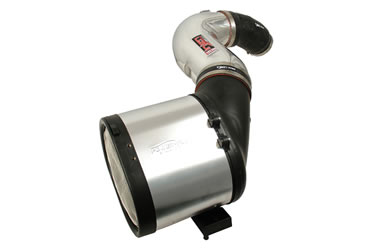 6/18/2013 - Media
Injen PF Series Power-Flow Air Intakes Now Available at Summit Racing Equipment
The world's first tuned intake systems.
What They Are: Injen PF Series Power-Flow Intakes
Why They're Cool: They deliver the maximum torque and power gains possible within safe factory air/fuel ratio limits. By using an integrated air inducer, air stabilizer, and a velocity stack, the PF Series Power-Flow intakes provide a colder, denser air charge than competing systems.
Fresh air is drawn in and pressurized as it passes through Injen's patent-pending Mega-Ram tuned pipe. This provides excellent air delivery and the optimum fuel mixture, which results in better combustion across the entire RPM range. The kits are dyno-tested and fine-tuned to offer significant power gains.
Each intake system bolts on without drilling and is 50-state legal.
Applications: Complete kits are available for many popular 1994-2013 pickup trucks and SUVs.
Where to Get One: Order online at SummitRacing.com or call Summit Racing at 1-800-230-3030.
Other Stuff Worth Knowing: The cotton-gauze filter in the Power-Flow intake flows more air than a stock paper filter. Injen's Pro-Tech Charger Kits include cleaner and charger oil to help keep the filter free from dirt and debris. Keeping the filter clean will ensure the best airflow possible.