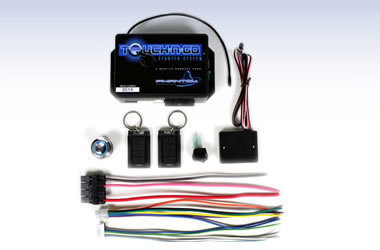 4/18/2013 - Media
ididit Touch-N-Go Start Systems Now Available at Summit Racing Equipment
Lose your keys—in a good way.
What It Is: ididit Touch-N-Go Keyless Ignition System
Why It's Cool: A system that provides ultra-modern (and ultra-cool) convenience. This kit uses a key fob transmitter that fits in your pocket. When you get close to your vehicle, the fob will automatically signal to the ignition system. When you get in the car, just push the dash-mounted start button and you're on your way.
The key fobs in the deluxe kit are programmable; to unlock doors, pop the trunk, or even roll down windows. There's even a valet switch that temporarily overrides the key fob security system.
The kit includes everything you'll need: an ignition control module, start button, wire harness, switch, and two key fobs. It is compatible with any 12-volt starting system and uses the familiar switch "positions" to represent on, off, and accessory operation.
Where to Get One: Order online at SummitRacing.com or call Summit Racing at 1-800-230-3030.
Other Stuff Worth Knowing: Summit Racing will soon be offering ididit's Touch-N-Go system pre-installed in iddit's universal fit steering columns. These columns will eliminate much of the wiring and be a complete drop-in package.