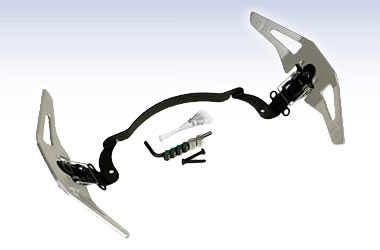 2/13/2013 - Media
Hurst Paddle Shifter Kits Now Available at Summit Racing Equipment
That famous Hurst shift 'feel' for modern paddle-shifted muscle.


What They Are: Hurst Paddle Shifter Kits


Why They're Cool: Put control of your transmission at the tip of your fingers with one of these Hurst paddle shift kits. The kits replace the small OE shift buttons on the steering wheel with large, easy-to-use paddles so you never miss a shift again. You can also adjust the paddles to suit your driving style. The kits are easy to install—no removal of the steering wheel or airbag is necessary. Mounting hardware is included.


Part Numbers
HUU-5385430 2010-11 Camaro with 6L50/6L80 transmission and OE Tapshift, aluminum paddles
HUU-5385400 2008-11 Dodge Challenger and Charger, Chrysler 300 with Autostick, black paddles


Where to Get One: Order online at SummitRacing.com or call Summit Racing at 1-800-230-3030


Other Stuff Worth Knowing: You can also hop up the look of your late model Camaro or Challenger's auto shifter with a Hurst Comp Stick Kit. The kits include a CNC-machined console plate, stainless steel handle sleeve with an engraved Hurst logo, and a shift knob (Mopar) or handle (Camaro).