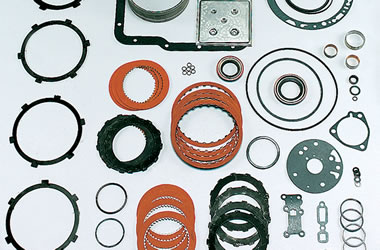 12/20/2012 - Media
Hughes Performance Race Overhaul Transmission Kits Available at Summit Racing Equipment
Everything you need to transform your automatic transmission into a competition ready gearbox.


What They Are: Hughes Performance Race Overhaul Transmission Kits


Why They're Cool: The transmission overhaul kit that does it all. Hughes combines the best components—premium Kolene steels, red Alto race frictions, KEVLAR®-lined race bands, bushings, washers, modulator, filter, and more—into a single kit that transforms your transmission from mild to mighty, while reducing slippage and improving durability.


Applications: Available for GM Powerglide, TH-350/400, and 4L80E; Ford C4. AOD/E4OD, 4R70W, and 4R100; Chrysler Torqueflite 904/727, A500LU, 42RE/RH


Where to Get One: Order online at SummitRacing.com or call Summit Racing at 1-800-230-3030


Other Stuff Worth Knowing: Hughes Performance Deep Aluminum Transmission Pans increase fluid capacity to reduce operating temperatures and improve transmission life. They also enhance case rigidity and feature raised cooling fins to dissipate heat faster.