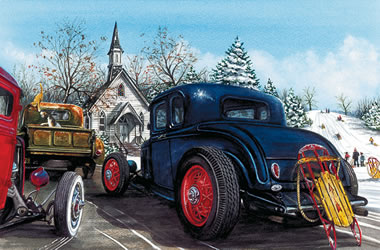 11/27/2012 - Media
Hot Rod Christmas Cards Now Available from Genuine Hotrod Hardware
Christmas cards with hot rod flair!


What They Are: Hot Rod Christmas Cards


Why They're Cool: These are the cards any gearhead or car enthusiast would love to send or receive. You get a box of 10 with envelopes (one design per box). Pick up a box (or two) and say Happy Holidays with horsepower.


Genuine Hotrod Hardware offers 28 different card designs--here are some of the newest:
POP-X727 Flaming Bridge
POP-X872 Hot Rod Mill
POP-X882 Street Rod Locomotive
POP-X883 Hot Rod in Town
POP-X884 Barn Find Christmas
POP-X885 Home for the Holidays
POP-X890 Holiday Racing
POP-X892 Sledding Christmas
POP-X894 Santa Dragster


Where to Get Them: Order online at Genuinehotrod.com or call Genuine Hotrod Hardware at 1-800-575-1932


Other Stuff Worth Knowing: Genuine Hotrod Hardware has a sleigh-load of holiday decorations for the inside and the outside of your home, making it easy to celebrate in hotrod style.