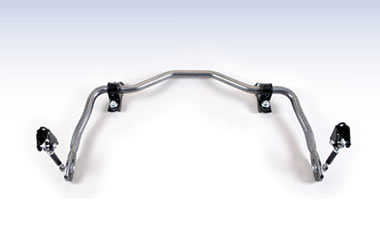 2/14/2013 - Media
Hellwig Drag Race Anti-Sway Bars Now Available at Summit Racing Equipment
An anti-sway bar you can adjust quickly to adapt to track conditions.
What They Are: Hellwig Drag Race Anti-Sway Bars
Why They're Cool: These solid rear bars have three adjustment points that allow for precise track tuning. Designed solely for drag racing, the anti-sway bars are built to withstand the rigors of the track. They incorporate 4130 chromoly rod ends with PTFE liners, which keeps them tight and secure for consistent handling.
These American-made, 1¼ inch diameter bars are tempered to a tensile strength of 180,000 PSI. To resist corrosion, they feature a gray hammertone powdercoat finish. Installation is easy with Hellwig's innovative frame brackets. Mounting hardware is included.
Part Numbers:
HEL-5865 for 1964-67 GM A-Body
HEL-5870 for 1968-72 GM A-Body
Where to Get Them: Order online at SummitRacing.com or call Summit Racing at 1-800-230-3030.
Other Stuff Worth Knowing: Perfecting your A-body drag car's suspension? Check out Moroso's Trick Front Springs. They have a huge amount of stored energy, for excellent weight transfer during a launch. These coil springs are available with spring rates ranging from 213 to 260 lbs./in. and can handle a front-end weight as low as 1,550 pounds.