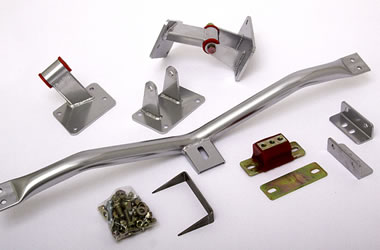 11/22/2012 - Media
Hedman LS Swap Kits and Headers for 1955-57 Chevy Now Available at Summit Racing Equipment
The easy way to combine a modern LS drivetrain with a classic Bowtie ride.


Hedman LS Conversion Kits
Hedman's kits have the parts you need to fit an LS engine and a T-56 six-speed manual or 4L60E/4L60E automatic transmission into a Tri-Five Chevy. The kits include frame brackets, motor mounts, a transmission crossmember, hardware, and polyurethane bushings. The conversion parts have a durable silver powdercoat finish.
HED-03854 Kit for 4L60E/4L65E transmission
HED-03853 Kit for T-56 transmission


Hedman Husler Muscle Rod Swap Headers
Hedman offers two styles of headers for the 1955-57 Chevy LS swap. The mid-length headers provide the added ground and engine compartment clearance associated with a shorty-style header, while offering performance increases that rival their long-tube counterparts. These headers have 1 3/4 inch primary tubes and come with a weld-on, gasketless ball/socket style collector adapter.


Hedman's long-tube headers are available with 1 3/4, 1 7/8 or 2 inch primaries or a 1 7/8 to 2 inch stepped version for unbeatable torque and horsepower gains. The long tube headers have 3 inch slip-on style collectors.


Both header types have beefy 3/8 inch thick flanges, mandrel-bent primary tubes, and a choice of a natural finish, silver ceramic-metallic coated, or a unique flat-black Black Maxx ceramic-metallic coating. Mounting hardware, oxygen sensor bungs, and gaskets are included.


Where to Get Them: Order online at SummitRacing.com or call Summit Racing at 1-800-230-3030


Other Stuff Worth Knowing: Summit Racing also has Hedman LS Conversion Kits and Muscle Rod Headers for many classic Chevy cars and trucks from 1958 through 1980.