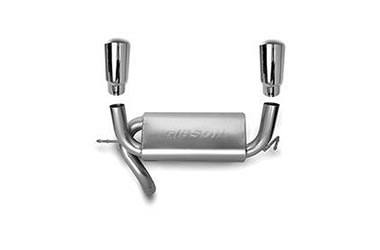 10/22/2012 - Media
Gibson Cat-Back Exhaust Systems for Jeep JK Wrangler Unlimited Available at Summit Racing Equipment
Get noticeable power gains, a more aggressive sound, and better performance from your JK Wrangler Unlimited with a Gibson Cat-Back Exhaust System.
What They Are: Gibson Cat-Back Exhaust Systems for Jeep JK Wrangler Unlimited
Why They're Cool: Gibson exhaust systems combine a baffled and chambered muffler with heavy gauge, mandrel-bent tubing for improved flow volume, more low-end torque, and increased horsepower. The tailpipe of the Swept Side exhaust systems exit in the stock location; the Split Rear systems have two pipes that exit out the rear on each side. Both systems include polished stainless steel tips.
Applications:
GIB-17301 Swept Side, single rear outlet, aluminized steel
GIB-617301 Swept Side, single rear outlet, stainless steel
GIB-17303 Split Rear, dual rear outlets, aluminized steel
GIB-617303 Split Rear, dual rear outlets, stainless steel
Where to Get One: Order online at SummitRacing.com or call Summit Racing at 1-800-230-3030.
Other Stuff Worth Knowing: Gibson performance-tuned headers unleash a Jeep's full potential. They are well-suited for off-road because the power gains come in at low and midrange speeds, and allow your engine to run cooler. Available for Wrangler, Cherokee, and Grand Cherokee.