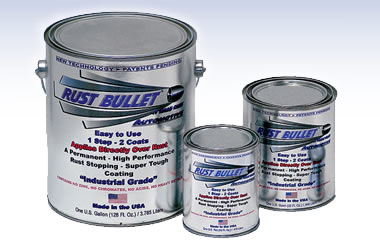 3/18/2013 - News
General Motors Now Recommends the Same Rust Bullet Products Available at Summit Racing Equipment
Rust Bullet Rust Inhibitor and BlackShell Coating are the easy-to-use way to stop rust in its tracks—and keep it away for good.


Rust Bullet is so good, in fact, General Motors now recommends that dealers use it repair rusting frames on late model trucks. What's more, GM's own paint and coating engineers have determined that Rust Bullet is not only easier to apply than other rust-inhibiting coatings, it also lasts much longer.


Best of all, you can use the very same Rust Bullet coatings GM recommends—they're available right now at Summit Racing Equipment.


Rust Bullet Rust Inhibitor Coating
Rust Bullet was developed for the aviation industry. It is not a rust converter; once applied, the rust and the Rust Bullet resin essentially become one permanent coating. The easy-to-use, one-step coating requires little or no surface preparation and can be brushed, rolled, or sprayed on clean or rusty metal. Rust Bullet strongly recommends applying two coats for complete protection. You can leave it as-is or cover it with a topcoat like Rust Bullet's BlackShell coating for even better protection. One gallon of Rust Bullet Rust Inhibitor Coating covers approximately 200 square feet when applied in two coats.
Product Link: http://www.summitracing.com/search/brand/rust-bullet/product-line/rust-bullet-rust-inhibitor-coating?autoview=SKU


Rust Bullet BlackShell Coating
Rust Bullet BlackShell protective coating combines function and beauty in one tough, UV-resistant gloss-black coating. You can apply BlackShell over Rust Bullet's Rust Inhibitor for the ultimate in corrosion protection, or use it as a stand-alone topcoat for painted or unpainted surfaces to keep rust at bay. BlackShell can be applied with a brush, roller, or spray gun.
Product Link: http://www.summitracing.com/search/brand/rust-bullet/product-line/rust-bullet-blackshell-protective-coating?autoview=SKU