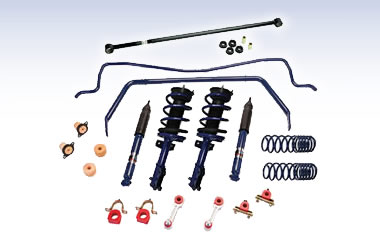 3/26/2013 - Media
Ford Racing Handling Packs for 2011-13 Mustang Now Available at Summit Racing Equipment
Better handling from the folks that designed your Mustang.


What They Are: Ford Racing Handling Packs


Why They're Cool: OEM-quality handling you can install at home. These kits are factory-engineered to be an easy bolt-on—in fact, Ford Racing designed them to be installed without using a spring compressor.


The Handling Packs include these components:
• Gas-charged, single-adjustable monotube front struts and rear shocks
• Front and rear lowering springs
• 1.378 inch (35mm) solid front sway bar
• .866 inch (22mm) solid rear sway bar
• Adjustable rear panhard bar
• Polyurethane sway bar and end link bushings
• Upgraded front strut mounts and bump stops


Part Numbers
FMS-M-FR3A-MGTA Handling Pack, 1 inch drop springs
FMS-M-FR3A-MGTAA Handling Pack, 1.5 inch drop springs


Where to Get One: Order online at SummitRacing.com or call Summit Racing at 1-800-230-3030


Other Stuff Worth Knowing: Summit Racing has a Ford Racing Handling Pack for 2011-13 Mustang convertibles too. It includes gas-charged monotube shocks, lowering springs, solid front and rear sway bars, a front strut tower bar, sway bar and end link bushings, front strut mounts, and bump stops.