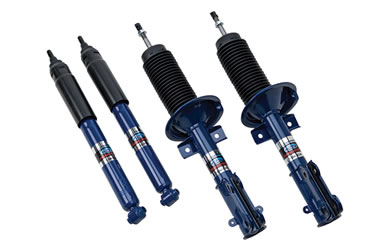 7/24/2013 - Media
Ford Racing Cobra Jet Suspension Parts Now Available at Summit Racing Equipment
Performance components from folks who know the Mustang better than anybody.
Cobra Jet Damper Kit
Extensively engineered in track settings, the Ford Racing Cobra Jet Damper Kit is the foundation of a no-compromise suspension setup. These dampers are specifically tailored to work with Ford Racing's M-5300 Series Springs. They are adjustable, gas-charged dampers that feature polyurethane bushings for consistent performance.
This kit will fit the 2005-13 Ford Mustang.
Part Number: FMS-M-18000-CJ
Cobra Jet Spring Kits
Ford Racing offers Cobra Jet Spring Kits to complement its dampers. Ideally suited for drag racing, these springs are the same ones used on the 2008-13 Ford Mustang FR500CJ drag car. The front and rear kits come with a black powdercoat finish and are available as direct replacements for the 2008-13 Ford Mustang Cobra Jet.
The springs fit the 2005-13 Ford Mustang.
Part Numbers:
FMS-M-5300-Q 2008 Ford Mustang Cobra Jet
FMS-M-5300-RA 2005-13 Ford Mustang
Where to Get Them: Order online at SummitRacing.com or call Summit Racing at 1-800-230-3030.
Other Stuff Worth Knowing: Ford Racing has been steadily building a large catalog of performance parts for the fifth generation Mustang. These parts have been designed specifically for this platform by Ford engineers to provide excellent performance and track-tested durability. From complete exhaust systems and throttle bodies, to spoilers and brake upgrades, Summit Racing has plenty of parts from Ford Racing to put a little more pony in your ponycar.