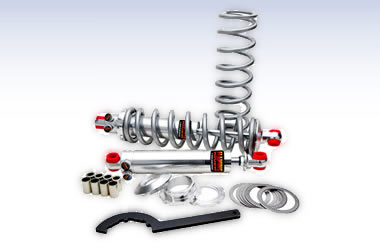 5/10/2013 - Media
Flaming River Adjustable Coil-Over Shock Kits Now Available at Summit Racing Equipment
361 different shock valving combinations for the ultimate in suspension tuning.


What They Are: Flaming River Adjustable Coil-Over Shock Kits


Why They're Cool: The easy way to convert classic GM muscle to a front coil-over suspension setup. These Flaming River coil-over shock kits feature twin-tube, aluminum shocks that have 19 positions of rebound and compression adjustments. That provides 361 different valving combinations to help you zero-in on the ideal front suspension setup. The shocks feature a machined aluminum piston with deflective disk technology and a PTFE/bronze piston seal, a 5/8 inch centerless ground, hard chrome plated piston rod, and an advanced 3-step sealing system.


The kits are available with a variety of coil spring rates for street, road racing, and drag racing. The springs feature high-tensile spring steel that's cold-wound, heat-treated, and shot-peened, and then ground at both ends and silver powdercoated for maximum protection.


Applications
• 1964-72 GM A-body
• 1967-81 Camaro/Firebird
• 1969-79 Nova, Omega
• 1973-83 Chevelle/Malibu, 1973-88 Regal
• 1970-88 Monte Carlo
• 1955-57 Chevy


Where to Get One: Order online at SummitRacing.com or call Summit Racing at 1-800-230-3030


Other Stuff Worth Knowing: Summit Racing also carries Flaming River's universal Lightweight Coil-Over Springs for use with most any coil-over setup. They are up to 25% lighter than comparable springs and are guaranteed to remain within 2% of the original free height and rate for life. The springs are available in a variety of lengths and rates.