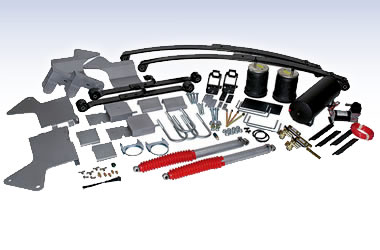 1/30/2013 - Media
Firestone R4Tech Air Suspension Kits Now Available at Summit Racing Equipment
Upgrade your truck's ride with an air-over-leaf-spring suspension system.


What They Are: Firestone R4Tech Air Suspension Kits


Why They're Cool: Get the best of both worlds—the axle control of a leaf spring suspension partnered with the safety and ride quality of a full-air setup. Air suspensions ride better than steel spring suspensions and reduce wear and tear. The R4Tech kits' air springs, shocks, and dampers adjust automatically for any load, helping to keep the vehicle level and optimizing the ride quality. The kit installs easily by using the same mounting holes as the OEM leaf spring suspension.


The kits include leaf springs, trailing link, anti-windup J-springs, air springs, no-drill mounting brackets, air supply kit, load-kit, load-adaptive shocks, and all required tubing, fittings, and hardware.


Applications: 2005-2011 Chevy/GMC HD, 1999-2011 Dodge Ram, 1999-2011 Ford Super Duty, 3/4 and 1 ton trucks


Where to Get One: Order online at SummitRacing.com or call Summit Racing at 1-800-230-3030


Other Stuff Worth Knowing: Summit Racing also carries the Firestone R4Tech Air Control Kit. It's everything you need to install and control the Firestone R4Tech air suspension systems including: 3 gallon air tank, air compressor switch, air lines, frame mount brackets, compressor mounts, linkage, pneumatic self-leveling switch, wiring harness, and necessary hardware.