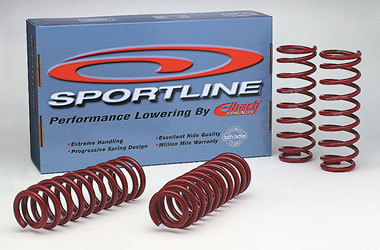 2/28/2013 - Media
Eibach Pro-Kit and Sportline Lowering Springs for Dodge Challenger Available at Summit Racing Equipment
Eibach's Pro-Kit and Sportline Spring kits deliver a more athletic stance, launching your late-model Dodge Challenger to the head of the pack in looks and performance.


Why They're Cool: A lowered Challenger is a happy Challenger. Eibach's progressive rate coil springs will help reduce body roll in the curves, squatting under acceleration, and nosedive when you hit the brakes. The springs also reduce fender gap to give your vehicle a lower, more aggressive stance.


The Pro-Kit Springs will lower the car approximately 0.8 inch front and rear; the Sportline springs will lower the car 1.1 inches in the front and 1.2 inches in the rear. The springs are made in the USA and have a durable powdercoat finish.


Application: 2008-11 Dodge Challenger


Part Numbers
EIB-2895-140 Pro-Kit spring kit, black powdercoat
EIB-4-9528 Sportline spring kit, red powdercoat


Where to Get One: Order online at SummitRacing.com or call Summit Racing at 1-800-230-3030


Other Stuff Worth Knowing: Look to Lakewood's Subframe Connectors to increase the strength and rigidity of your Challenger's chassis for a dramatic increase in balance and handling. Engineered from mild DOM steel and powdercoated for rust protection, these subframe connectors will keep your frame from flexing, so your car's power ends up on the road and not twisting your frame.