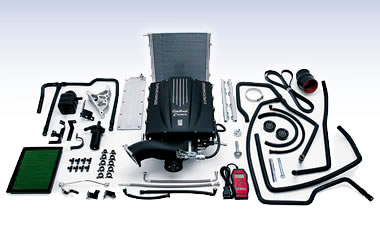 2/8/2013 - News
Edelbrock E-Force Superchargers for GM Truck Now Available at Summit Racing Equipment
Bolt up big street-legal horsepower on your late model GM or Ford truck!


Why They're Cool: Edelbrock E-Force supercharger kits use a positive displacement Eaton Gen VI 2300 TVS® supercharger rotating assembly—the same one used by GM in the Corvette ZR1. It features a four lobe design with 160° of twist for maximum flow, minimum temperature rise, and quiet operation for excellent drivability.


The Eaton rotating assembly is integrated into the intake manifold for a seamless design that eliminates the possibility of vacuum leaks between gasket surfaces. Edelbrock inverted the assembly to help maximize intake manifold runner length. Individual runners for each cylinder allow for maximum low end torque and instant throttle response—perfect for towing and hauling heavy loads.


Other features include:
• Bolt-on installation—no welding or grinding, fits under stock hood
• Electronic programmer with application specific tuning
• Air-to-water intercooler—reduces air temperature to maximize power
• Integrated bypass valve for improved throttle response with little to no decrease in fuel economy
• Self contained oil system with 100,000 mile service interval


Part Numbers
EDL-1564 2007-12 GM 1500 series SUV 5.3L
EDL-1567 2007-12 GM 1500 series SUV, 6.2L
EDL-1578 2007-12 GM 1500 series pickup, 4.8L/5.3L
EDL-1579 2009-12 GM 1500 series pickup, 6.2L
EDL-1581 2004-08 Ford F-150 pickup 2WD, 5.4L
EDL-1583 2009-10 Ford F-150 pickup 2WD, 2007-11 Expedition/Navigator, 5.4L


NOTE: An Edelbrock Supplemental Fuel System is required for use with 2007-09 GM vehicles without a Flex Fuel fuel system.
Link: http://www.summitracing.com/search?keyword=Edelbrock%20Supplemental%20Fuel%20Pump%20KIts&dds=1