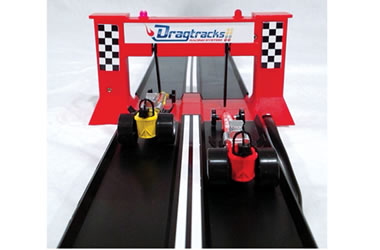 12/10/2012 - Media
Dragtracks 2 Drag Strip and Cars Now Available from Genuine Hotrod Hardware
Bring the thrill of drag racing into your living room!


Why They're Cool: This 1:64 scale drag strip has it all! You get engine-revving sound, remote foot pedals for staging and launching, a Christmas tree with Pro (all yellow then green) and Sportsman (sequential starting lights) modes, a digital readout for each lane that alternates between elapsed and reaction time, plus a WIN light so there's no doubt who gets the bragging rights. Racing is based on a player's reaction time and car. Race against an opponent, or switch to single-player mode and run some time trials.


The Dragtracks 2 comes with over 17 feet of track. It requires four 'C' batteries (not included), or use the optional power adapter (sold separately). The track works with any 1:64 scale die-cast cars including Dragtracks, HOT WHEELS, Matchbox, and Johnny Lightning (not included).


Don't have any cars? Grab a couple of Dragtracks die-cast dragsters and get racing! Each car weighs 30 grams, which is heavier than most 1:64 scale cars for superior racing action.


Part Numbers
EPT-3200DT-2 Dragtracks 2 Drag Strip
EPT-26847 Boilermaker dragster
EPT-26857 Bad in Black dragster
EPT-26867 Old School dragster
EPT-26877 Unit 1 dragster


Where to Get Them: Order online at Genuinehotrod.com or call Genuine Hotrod Hardware at 1-800-575-1932


Other Stuff Worth Knowing: Carry all your die-cast cars in convenient HOT WHEELS totes. Genuine Hotrod Hardware carries several styles of HOT WHEELS Zipbins, Storage Tins, and Backpacks and for storage and transport. Some even double as a track so you can take the cars out for a spin.