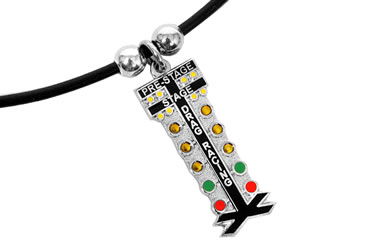 12/11/2012 - Media
Drag Strip Girl Charms Now Available from Genuine Hotrod Hardware
Feminine style, supercharged!


Why They're Cool: Sport some drag strip style that's cool. Three different charm designs to choose from—a solid pewter Top Fuel Dragster, solid pewter Funny Car, or a silver plated Christmas Tree with colored inlay. Each charm comes on a soft leather cord with two sterling silver beads. Made in the USA.


Part Numbers
DSG-CT-1966-16 Christmas Tree
DSG-FC-1966-16 Funny Car
DSG-TF-1966-16 Top Fuel


Where to Get Them: Order online at Genuinehotrod.com or call Genuine Hotrod Hardware at 1-800-575-1932


Other Stuff Worth Knowing: Genuine Hotrod Hardware carries Drag Strip Girl apparel too, including hoodies and t-shirts in adult and girls sizes.