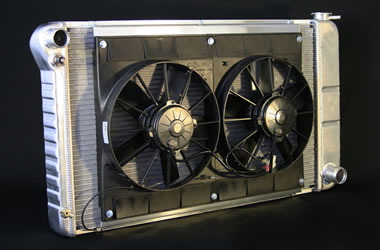 4/18/2013 - Media
DeWitts Radiator Direct Fit Radiator Modules Now Available at Summit Racing Equipment
A quick, convenient way to cool down your car.
What They Are: DeWitts Radiator Direct Fit Radiator Modules
Why They're Cool: A complete, modern cooling solution with easy drop-in installation. These radiator modules include an aluminum radiator, shroud, switch, wire harness, and (depending on application) a dual or single Spal electric fan. The modules are designed to install in the factory radiator position without modification.
The radiators are built to DeWitt's demanding specs, with two rows of cooling tubes, press-formed end tanks, and hand-made TIG welds. The electric fans and shroud are matched to the radiator and represent an excellent way to upgrade to modern cooling system performance and reliability.
For vehicles equipped with an automatic transmission, Summit Racing has DeWitts Radiator modules that feature an integrated transmission cooler.
Application: Available for many popular 1955-70 domestic cars and trucks, including GM A-Body, Chevy C10, Camaro/Firebird, Corvette, and Ford Mustang.
Where to Get One: Order online at SummitRacing.com or call Summit Racing at 1-800-230-3030.
Other Stuff Worth Knowing: If you have already installed an electric fan setup or want to retain your stock clutch fan, Summit Racing has DeWitts Direct-Fit Radiators. As with DeWitts' complete modules, these radiators have made-in-the-USA cores and are TIG-welded by hand to ensure excellent quality. They're built to be direct-fit replacements and will fit in the stock location without modification.