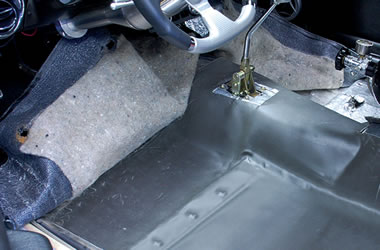 3/1/2013 - Media
DEI Boom Mat Moldable Noise Barriers Now Available at Summit Racing Equipment
Sound reduction you can mold to fit anywhere.


Why It's Cool: Customizable and effective sound protection that can fit virtually anywhere. These 1/16 inch thick mats effectively reduce engine and road noise, making the driving experience more enjoyable. The mats can be custom-molded with a heat gun to fit the contour of complex floor pans and are easily removed for service. They are flexible enough to fit in tight areas and can be trimmed down for specific applications.


Part Numbers
DEI-050103 Boom Mat Moldable Noise Barrier, 24 In. x 54 In. Sheet
DEI-050104 Boom Mat Moldable Noise Barrier, 48 In. x 54 In. Sheet


Where to Get It: Order online at SummitRacing.com or call Summit Racing at 1-800-230-3030


Other Stuff Worth Knowing: Battling sound and heat in your ride? Check out DEI's Boom Mat Under Carpet Lite Insulation. This multi-layer composite material addresses both acoustic and thermal protection. It can eliminate interior squeaks and rattles while keeping your cabin warmer in the winter and cooler in the summer.