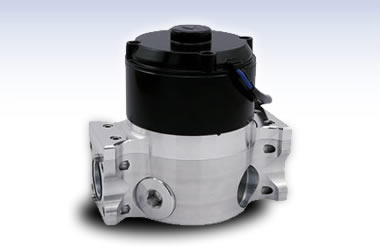 12/20/2012 - Media
CVR Proflo Extreme Electric Water Pumps Available at Summit Racing Equipment
CVR Proflo Extreme Electric Water Pumps provide up to 55 gallons per minute (gpm) of coolant flow without sacrificing horsepower--exactly what you need for a drag race car.


What They Are: CVR Proflo Extreme Electric Water Pumps


Why They're Cool: Proflo Extreme water pumps are CNC-machined from hardened T-6 aluminum and feature a direct-drive motor that draws just 6.1 amps. CVR Proflow Extreme Water Pumps also feature a machined billet impeller, stainless steel shaft, and a carbon ceramic seal with a 10,000-hour life expectancy.


Applications: Universal fit for remote-mount applications, small and big block Chevy and Ford V8


Where to Get One: Order online at SummitRacing.com or call Summit Racing at 1-800-230-3030


Other Stuff Worth Knowing: Maintain proper power brake vacuum with a CVR Electric Vacuum Pump. The 12 volt pumps are self-contained and require no wiring of relays or switches. Simply connect the positive and negative leads and the pumps automatically regulate vacuum level between 15-20 in. Hg.