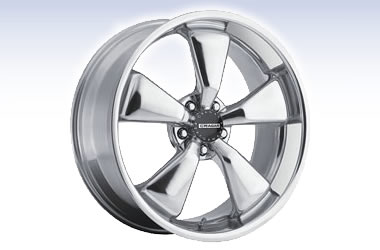 8/8/2014 - Media
Cragar Modern Muscle Series 617 Wheels Now Available at Summit Racing Equipment
The classic Cragar five-spoke look for today's modern muscle—Mustangs, Camaros, and Dodge Chargers, Challengers, and Magnums. The Modern Muscle Series 617 wheel is a chrome plated, one-piece cast aluminum and use a standard 60 degree conical-type lug nut. The 20 inch diameter wheel is available in 8.5 and 10 inch widths. It uses a standard 60 degree conical-type lug nut and comes with a matching aluminum skinned center cap.
Available Bolt Patterns: 5 x 4.5, 5 x 115mm, 5 x 120mm


Available Backspacing: 5.340, 5.850, 6.000, and 7.000 inches


Other Stuff Worth Knowing: You're gonna need tires for those new Cragars. Summit Racing has tires to fit your wheels from BFGoodrich, Continental, Goodyear, Kumho, Michelin, Mickey Thompson, Nitto, and other top brand names.


SEE THE CRAGAR MODERN MUSCLE SERIES 617 WHEEL AT SUMMIT RACING