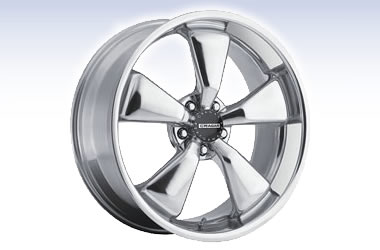 4/24/2013 - Media
Cragar Modern Muscle Series 617 Wheels Now Available at Summit Racing Equipment
Add classic musclecar looks to your modern-day Ford, Chevy or Mopar hot rod.


What They Are: Cragar Modern Muscle Series 617 Wheels


Why They're Cool: The classic Cragar five-spoke look for today's modern muscle—Mustangs, Camaros, and Dodge Chargers, Challengers, and Magnums. The Modern Muscle Series 617 wheels are one-piece cast aluminum and use a standard 60 degree conical-type lug nut. The 20 inch diameter wheels are available in polished aluminum, chrome, or matte gray and come with a center cap.


Bolt Patterns Available: 5 x 8.5, 5 x 10


Backspacing Available: 5.340, 5.850, 6.090, and 7 inches


Where to Get Them: Order online at SummitRacing.com or call Summit Racing at 1-800-230-3030


Other Stuff Worth Knowing: Summit Racing's wheel and tire selection is bigger than ever! Summit Racing offers over 1,500+ wheel styles from over 100 brands including American Racing, Konig, Cragar, Wheel Vintiques, Rocket Racing, and Enkei. Summit Racing also carrries 500 types of tires from BFGoodrich, Yokohama, Mickey Thompson, Nitto, Kumho, and other top brand names.