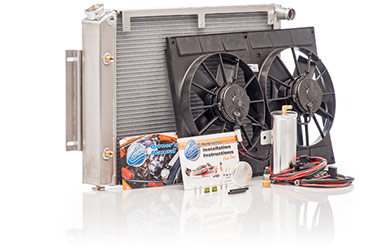 4/8/2014 - Media
Cool Down Your LS Swap with a Be Cool Radiator or Cooling Module
Swapping a GM LS series engine into—well, just about anything—is not only popular, it's gotten a lot easier thanks to all of the swap components now available. The cooling system is no exception. Be Cool has a whole line of American-made aluminum radiators and Cooling Modules that will keep the LS in an early Camaro or Corvette, shoebox Chevy, or S-Series truck running nice and cool.


Direct-Fit and Custom-Fit Aluminum Radiators
These all-aluminum radiators feature a crossflow design with two rows of one inch diameter tubes. This design provides up to 15% more cooling capacity than a factory four-row copper-brass radiator. Better still, the Be Cool radiators are direct bolt-in replacements for your stock radiator—no cutting, fitting, or welding required. The radiators can be used with all brands of antifreeze and are available in natural and polished finishes.
Applications: 1967-69 Camaro, 1955-72 Corvette, 1955-57 Chevy, 1982-93 S-Series pickup and Blazer.


Direct-Fit Cooling Modules
Available in 400, 700, or 1,000 horsepower versions, Be Cool Cooling Modules are guaranteed to keep your LS engine from boiling over. The Cooling Modules include:
• Natural finish, two-row aluminum radiator
• Single or dual Euro-Black high torque electric fans as required
• Aluminum coolant recovery tank
• Billet aluminum radiator cap
• Fan mounting brackets, wiring harness with 40-amp waterproof relay, sending unit, and proper fusing
Applications: 1967-69 Camaro, 1955-72 Corvette


Show & Go Cooling Modules
Be Cool Show & Go Cooling Modules provide the same cooling capacity as the Direct-Fit Modules, but with a mirror-like polished finish on the radiator, coolant recovery tank, radiator cap, and electric fan mounts.
Applications: 1967-69 Camaro, 1955-72 Corvette


Be Cool Radiators and Cooling Modules are also available for late-model Camaro, Corvette, and GM trucks factory-equipped with LS engines.


SEE ALL BE COOL RADIATORS AND MODULES FOR GM LS AT SUMMIT RACING