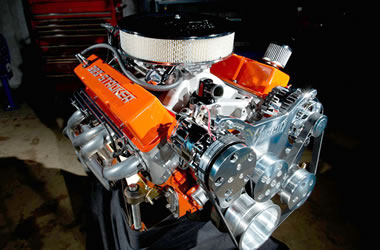 7/25/2013 - Media
Build Your Own Chevy 383 with Dyno-Proven PowerBlock TV 383 Stroker Combos
Building a 383 cubic inch engine out of Chevy's 350 small block is a very popular way to make big horsepower and torque. There are plenty of parts available to build a 383, but it can get confusing when you start mixing and matching those parts to get the power and reliability you want.


Thanks to the experts at Summit Racing and PowerBlock's Horsepower TV, all of the part matching has been done for you. Available exclusively from Summit Racing, the PowerBlock TV 383 Stroker Combos are based on the 383 Chevy assembled by the Horsepower TV crew—a dyno-proven combination that made 461 horsepower and 472 lbs.-ft. of torque!


With the PowerBlock TV 383 Stroker Combos, you can purchase parts as your budget allows, or you can buy just the combos you want and build your own version of the TV engine:
• The Short Block Combo features a Summit Racing remanufactured four-bolt main block, an Eagle Specialties reciprocating assembly, and a COMP Cams roller camshaft
• The Heads and Valvetrain Combo has Summit Racing aluminum cylinder heads and roller rocker arms, Comp Cams pushrods, and ARP head bolts
• The Induction Combo includes a Summit Racing Street & Strip® 750 cfm carburetor, Stage 3 intake manifold, and a 14 inch air cleaner
• The Ignition/Electrical Combo has a Summit Racing Street & Strip distributor and CD ignition box, spark plugs and plug wire, and a high torque starter
• The Oil System Combo features a Summit Racing oil pan and high volume oil pump
• The External Accessories Combo includes a Summit Racing serpentine belt system, headers, an electric water pump, and valve covers
• The Fuel System Combo has a Summit Racing fuel pressure gauge, braided fuel line, and carburetor spacer
• The Bolts and Fasteners Combo includes ARP accessory bolts, a harmonic balancer bolt, header bolts, flywheel bolts, and an oil pump stud kit
• The Finishing Combo features Royal Purple engine oil, Royal Purple oil filters, and Joe Gibbs Driven break-in oil


Summit Racing also offers PowerBlock TV 383 Tool Combos to help you put together your 383. They're a great way to fill up your toolbox with high-quality measuring, head porting, assembly, and shop tools—get them all as your budget allows, or just get the tools you need to round out your shop.


Product Link: http://www.summitracing.com/search/brand/summit-racing/part-type/powerblock-tv-combos?GroupBy=ProductName