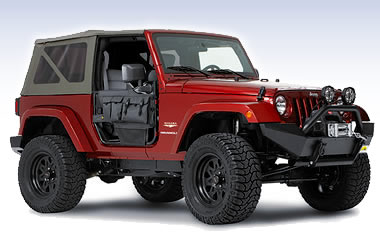 5/24/2013 - Media
Bestop HighRock 4x4 Element Doors Now Available at Summit Racing Equipment
The perfect compromise between hard doors or no doors.
What They Are: Bestop HighRock 4x4 Element Doors
Why They're Cool: Excellent visibility and ventilation with the security of a hard door. Made from heavy-duty 1¼ inch steel tubing, these doors install with no drilling and they accept the OEM mirror. Each door has an integrated step, which can be used to better reach the top of the vehicle for cleaning, top installation, etc.
In addition to bare-frame doors, there are doors with enclosure panels that can be painted to match. Bestop also offers HighRock 4x4 Element Doors with enclosure panels, plus doors that feature integrated fabric covers with large, handy storage pockets.
Application: 1976-86 Jeep CJ-7/Scrambler, 1986-2013 Jeep Wrangler.
Where to Get One: Order online at SummitRacing.com or call Summit Racing at 1-800-230-3030.
Other Stuff Worth Knowing: Summit Racing has Bestop's Tubular Grille Guards to complement your HighRock 4x4 Front Bumper. Available in either a black powdercoat or stainless steel finish, these grille guards offer stylish protection for the trail. They also have integrated light tabs for mounting optional off-road lights.