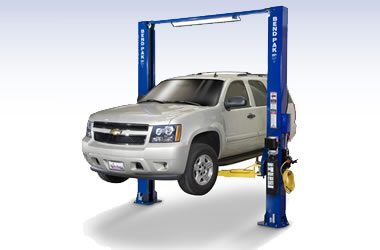 9/25/2013 - Media
Bendpak Lifts Now Available at Summit Racing Equipment
Turn your garage into a versatile work shop with a lift from the world leader in lifts.
The XPR-10A Dual Width 2-Post Lift uses Bendpak's innovative Tru-Metric arm design for excellent arm positioning. The XPR-10A is also packed with safety features, including locks spaced every three inches and an overhead shutoff bar. It incorporates dual hydraulic direct-drive cylinders with a self-lubricating bearing system. An oversized carriage and aircraft-quality equalizer cables are used for superior strength and durability. The lift handles 10,000 pounds and is roughly 12 feet tall by 12 feet wide, with a 6 foot maximum lift.
Product Link: http://www.summitracing.com/parts/bpi-5175770/overview/
To increase storage space in tight garages, Bendpak offers the HD-9STX Narrow Width Extra Tall Lift. This lift is ideal for storing an extra car in a garage or maximizing your shop's operating potential. The 4-post lift's freestanding design raises vehicles over 7 feet in the air, allowing another car to be parked underneath. The wheel runway tracks accommodate narrow and standard track widths, and the lift incorporates locks to ensure safe and stable operation. For lowered vehicles, there are removable approach ramps. This lift is about 16 feet long, 8½ feet wide, and it handles 9,000 pounds.
Product Link: http://www.summitracing.com/parts/bpi-5175862/overview/
Bendpak's MD-6XP Mid-Rise Portable Frame Lift is a great option for home garages to speed up routine wheel, brake, and suspension service. This lift fits nicely into narrow bays and it can be moved out of the way when work is complete. The lift uses a portable motor cart that also functions as the tow handle for the lift, making transport easy. The entire unit runs on standard 110-volt AC power. It is adjustable and uses safety locks for added security. The MD-6XP handles 6,000 pounds and is ideal for light duty cars and trucks.
Product Link: http://www.summitracing.com/parts/bpi-5175730/overview/
Where to Get One: Order online at SummitRacing.com or call Summit Racing at 1-800-230-3030.